DONATE / GIVE
To achieve our mission, we depend on the generous support of individuals like you. We are grateful for your generosity and hope you take great pride in the important difference that your gift makes.
OTHER WAYS TO GIVE
There are many ways to support The New Jewish Home and help provide the best possible care for older adults who turn to us.
Donate by mail or phone
If you'd prefer to mail your donation to Jewish Home, please use this form, or call (212) 870-5097 to make your gift over the phone.
Securities
You can support Jewish Home by making a gift of stocks or other kinds of securities. In doing so, you receive a two-fold benefit: a charitable tax deduction for the full fair market value of the stocks or securities at the time of the gift, and you avoid paying capital gains taxes.The most efficient way to make a gift of stock is to have your broker electronically transfer shares to Jewish Home.
For specific instructions or more information about donating stock to Jewish Home, please contact Jewish Home's Development Department at (212) 870-5097.
Matching Gifts/Workplace Giving
Increase your contribution to Jewish Home by asking your employer if they have a matching gift program – workplace giving campaigns are sponsored by many companies to encourage charitable donations.
Check with your employer to see if they participate in one of these common workplace campaigns:
Health 1st – America's Charities & Combined Federal Campaign (CFC)
United Way
Corporate Employee Gift Programs
Corporate Matching Gifts
Please send all gifts and forms to:
The New Jewish Home
120 West 106th Street
Attn: Development, Kaufmann 3rd Floor
New York, NY 10025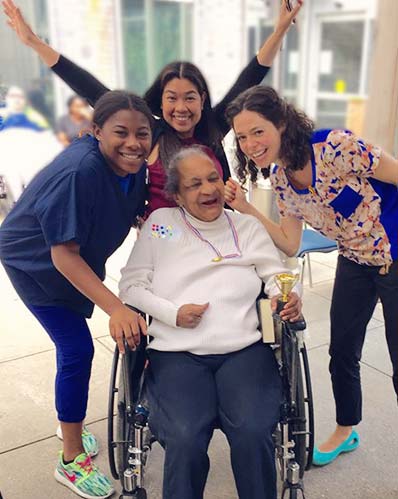 VOLUNTEER
Find out how you can make a difference in the lives of older adults living in New York by volunteering at our Manhattan or Westchester campus, or by connecting with an old adult in your community.